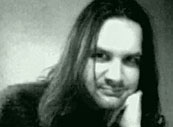 David Wallimann is a progressive rock guitarist who recently moved back to the U.S. from France. He is dedicated to serving Jesus Christ with the wonderful gift of music God has given him. David enjoys playing many different styles, however his musical influences are very prog oriented. While in prayer over possibly moving to the U.S during the summer of 2004, David met Bill and Kirk online. After exchanging music and ideas, David moved here to form the band Young Earth.
David Wallimann's Music Education/Special Awards
Ibanez endorsement in national Ibanez Guitar Contest.
Professional Musician Diploma from the CMA music school in Valenciennes, France.
Diploma from the Federation of Jazz Schools in Paris.
First prize guitar contest for A Capella Association and the Tal Farlow federation.
Professional Musician Diploma with honors in the school Artist' in Cavaillon.